View
City of Toronto Outdoor Rinks
in a larger map
---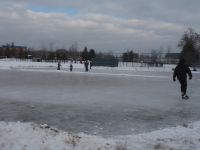 *
picture.jpg (caption)
Δ
---
---
Old rink description (until new rinkhouse was built) Rink change area: There is a locker room with barely enough room to change your skates. Most skaters changed on the benches that surround the rink. Snack bar used to sell greasy-spoon food, but has been closed for some years now. A great opportunity squandered.
Staff: One to three rink guards at a time, plus a zamboni operator always on site.
Maintenance: The rink has its own Zamboni, own operator on two shifts. Very well maintained. However, during large events in the Square, the ice isn't cleaned because it's too hard to get the large crowd of skaters off the ice. 14 shifts a week.
Free shinny-hockey and pleasure-skating hours:
---
http: //
#!enhancedmarker-0000 section template=rinktable
e|<|x|+